Travelling to Bali and purchasing a knock-off Rolex is part of the tourism experience. You can buy a suit, a shirt, shoes, or Gucci or Prada bag, bring it home and pretend that you splashed an insane amount of cash to impress your friends.
Trying to convince them that your new Rolex is the genuine article is all part of the fun. Of course, when you buy from a street vendor in Bali, you know you're buying a fake.
What happens, though, if you didn't know? Let's say you bought a Rolex online for $10,000, only to find out it was a $5 counterfeit timepiece.
It is that scenario that's becoming common as more and more time-poor people use e-commerce channels to purchase their goods.
There is no doubt that counterfeiting is on the rise. Incidences of counterfeiting will rise from $1.2 trillion in 2017 to an anticipated $1.82 trillion by 2020.
This is a huge economic drain and is affecting big brands.
Last year, Amazon faced a series of lawsuits from brands claiming that the e-commerce giant was failing to protect them from the sale of fake products. In further evidence that counterfeiting is getting out of control, late last year authorities made two seizures which netted $59 million in counterfeit merchandise including brands such as Apple, Calvin Klein, Gucci, Sony and Rolex.
The rise of counterfeiting has prompted Amazon to use the word counterfeit (for the first time ever) in its annual report. This is particularly relevant as the company moves further towards engaging third party sellers. It has even created its own technology to combat the issue, however it continues to be plagued by knock-offs, with The American Apparel & Footwear Association, which represents more than 1,000 brands, recommending that some Amazon sites should be added to the "Notorious Markets" list.
So, is there anything that can be done?
The short answer is yes.
During 2019 one ASX listed company will launch a world first, blockchain verified technology, where a consumer's phone can scan to reveal product authenticity.
The patented technology known as Motif Micro is:
Invisible
Unfakeable
Irreproducible, and
Commercially scalable
It looks like this: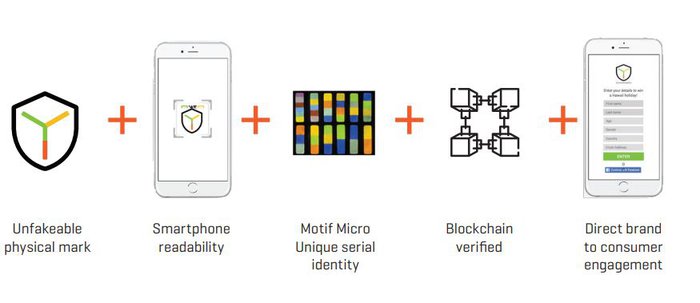 In short, this anti-counterfeit and customer engagement solutions provider with offices in Australia, China, Singapore, Thailand and USA, is, through this groundbreaking technology, ideally placed to help brands, e-commerce sites and consumers combat counterfeit.
Its proprietary technology suite not only provides certainty of authenticity, but also connects brands directly to consumers in a market intelligence and data capture exercise that allows them to better meet consumer needs.
This creates three clear sources of revenue through a proven, patented product suite: anti-counterfeit, retail engagement and government.
Investors take note, it also has a unique position in China, being the only company licensed in the country that sells invisible tracers.
The company is already working with major brands including Unilever, Dalda, Cisco and now, as announced today, has further solidified its reputation with Namaste. It has a major global presence that is growing throughout the Asia Pacific, South East Asia and the USA, and it is also trusted by governments and its solutions have been applied to 250 million of the world's passports.
This company has 20 patents in anti-counterfeit and is CSPIA and CATA accredited – official China counterfeit accreditations.
This reach is seeing revenues starting to flow in. Its channel partner agreement with China-based Shenzhen Meixin Electronics, which supplied to one of the world's top three manufacturers of smartphones, is one avenue. Revenues have also commenced from the roll-out of tens of millions of product units using the company's tracer solution to verify the authenticity of componentry.
Further revenues are also being generated through a major Chinese shampoo brand rolling out across two million bottles and via label supplier CNN technologies from the initial roll-out of 40 million labels.
All of this points to a strong CY19, as this pioneering business becomes an industry voice in countering counterfeit.
That's a lot to take in, so let's break it down and introduce you to: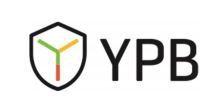 YPB Group
ASX:YPB
YPB Group (ASX:YPB) is a company reborn.
It has come a long way in a short time after steering through a period of turmoil in which it replaced management, streamlined operations, and put cost efficiencies in place.
Since executive chairman John Houston re-took control, the company has improved its financial performance, started to generate sustainable revenues, and become far more transparent with shareholders.
Cost changes took effect in November 2018 and this month came into full effect with CEO and serial entrepreneur Houston noting that his drive for the company to become leaner and more efficient was progressing well.
Houston founded the company in 2011 in China to protect brands against counterfeit and better connect them to their customers. Its initial technology was tracer/scanner technology, the first low-cost, invisible, indestructible anti-counterfeit measure that was inexpensive and easy to introduce to the supply chain.
The solution consists of a covert, invisible tracer that can be applied to any product, which can then be scanned using the proprietary YPB scanner. A green light points to a genuine product; a red lighter indicates it's counterfeit. Interestingly, YPB is the only company licensed in China that sells invisible tracer solutions.
Last year, YPB acquired the global rights to the multi-patented, MIT developed Motif Micro smartphone readable technology that delivers 'certainty of authenticity'.
Here's the problem and YPB's solution: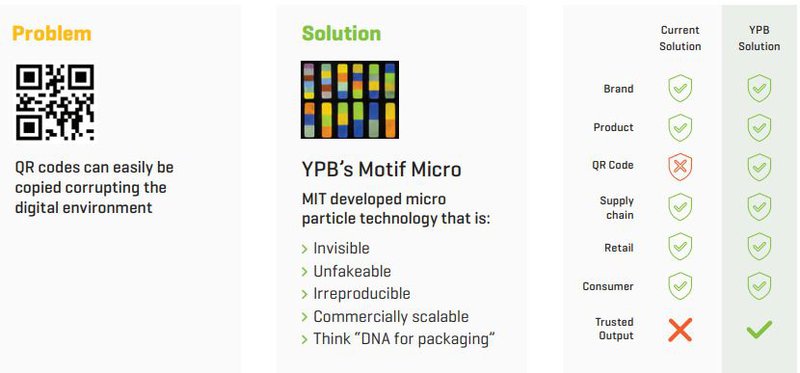 Further to that, it will soon take its highest security anti-counterfeit technology to the mass market with an unclonable, smartphone-readable, physical anti-counterfeit product called ProtectCode, in combination with the immutable digital protection of blockchain.
Here's the explainer:
YPB intends to release a new token to empower and incentivise brand and consumer engagement that promises to deliver non-dilutive funding to the company.
The $9.62 million capped company, which has recently completed a capital raise for $1.25 million looks to have a great deal of upside now.
Money raised will go towards technical development and commercialisation of Motif Micro materials technology and business development.
The Motif Micro technology had a major breakthrough last year in smartphone readability: every consumer's smartphone can now scan to reveal product authenticity.
It looks something like this: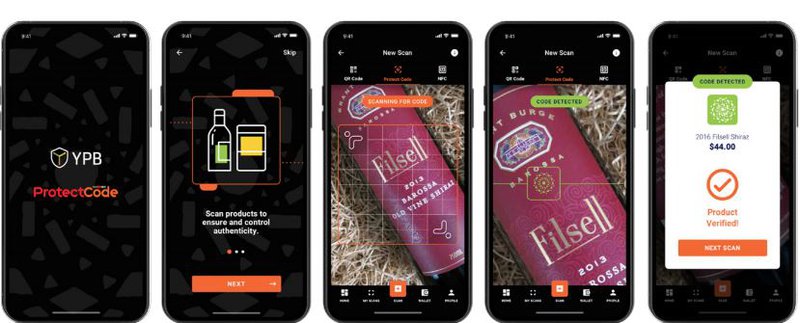 The following video explains how it works:
YPB offers is a unique, patented, end to end solution that prevents counterfeit, giving brands and consumers peace of mind. It connects them at a commercial level through a cloud-based, API integrated, SaaS platform that provides deep market intelligence by capturing information about each product scan.
Everyone benefits.
As such, more and more partners are coming on board, including those in the cannabis space.
How can YPB influence the cannabis industry?
We have pretty much established that any product can be counterfeit. However, surely cannabis products are untouchable.
Right?
Wrong.
As Rolling Stone reports the legalisation of recreational marijuana has thrown up a range of complications with regard to products sold. Black market products in states or territories where legalisation has not been granted may also be questionable.
According to Rolling Stone vaping is the preferred smoking method, with cartridge concentrates becoming more popular and brands such as King Pen, Brass Knuckles and Heavy Hitters cashing in under the assumption they provide premium concentrate free of contaminants like pesticides, cutting agents, and heavy metals.
But how does anyone know if this is really the case?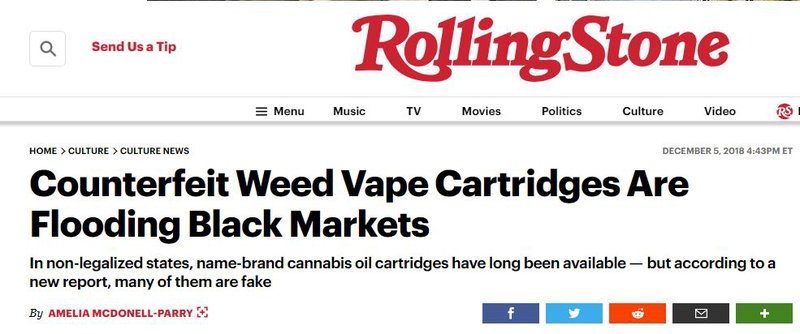 The headline above suggests that, to bring Shakespeare into it, something is rotten in the state of Denmark, because even Denmark has a thriving medical cannabis programme – but that's another story in what has become a global narrative.
Headlines like this also highlight the seriousness of the issue.

The point is those selling cannabis products need to be trusted and the only way for that to happen is for consumers to know that what they are buying is authentic.
Today's announcement by YPB that existing partner Namaste Technologies, has agreed to broaden the use of YPB's product markers to all products on Namaste's e-commerce platforms is an important one.
One that will protect consumers.
And brands.
Namaste Technologies Inc. (TSXV: N)(OTCQB: NXTTF)(FRA: M5BQ) is an e-commerce leader. YPB has a 'Cannabis Confirmed' initiative with Namaste to provide an industry-wide authentication and consumer engagement solution to global cannabis industry companies.
There are currently four Namaste companies engaged in this initiative, the most recent being Shatterizer Inc., an established Canadian vaporizer brand leading in hardware for cannabis concentrates.
YPB and Shatterizer signed a three year exclusive agreement whereby YPB's ProtectCode will be applied to all of Shatterizer's cannabis concentrates vaporizers and accessories.
Meanwhile, all brands on Namaste's platform will now be encouraged to comply with the new markers.
YPB markers are designed to protect consumers from the health, safety and quality risks associated with counterfeit products as well as provide greater market intelligence through the valuable and unique consumer data captured through YPB's Connect platform.
YPB will receive 13 cents per product that is marked with its label solution. The company is also developing other methods of marking which will result in serialisation of product packaging.
Brands do have the option to directly mark packaging with a printed code. If they take this route, the price per product would be between one cent and five cents.
That should be money in the bank for YPB and its investors as serialisation becomes an important tool in combatting counterfeit.
Even Amazon has acknowledged the problem
E-Commerce giant Amazon has mandated anti-counterfeit markings on all products sold through its platforms.
Amazon says it has a zero tolerance policy to counterfeit products, but given its marketplace allows for third party sellers (a trend that is growing), its checks and balances have been put to the test.
And it's hurting.
According to CNBC, The American Apparel & Footwear Association, which represents more than 1,000 brands, recommended that some Amazon sites should be added to the "Notorious Markets" listbecause of counterfeits, saying Amazon should rather 'be a leader in the fight against counterfeits'.
Daimler AG has also raised red flags having filed a complaint alleging trademark infringement by Amazon for failing to prevent the sale of counterfeit Mercedes-Benz parts.
Here's the article: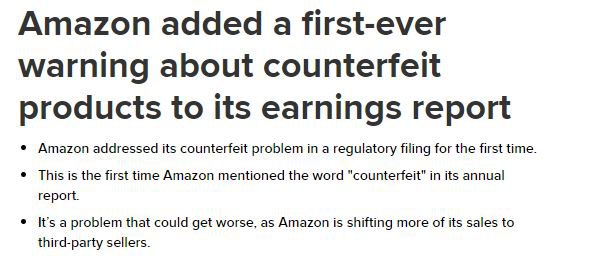 It's a serious and growing problem and Namaste Technologies is following the globally significant precedent recently set by Amazon to serialise products.
Through YPB's solution, Namaste looks to be able to do it better than Amazon.
The distinct advantages YPB has over Amazon are price, access the Brand will have to data and importantly YPB's solution can be read by any smartphone without the need for an APP.
The solution plays into consumers' requirements for products that are genuine, safe and socially responsible.
Counterfeit products can lead to reputational damage, which ultimately leads to financial damage.
YPB is exceptionally well-placed with the world's leading product authenticity technologies to not only protect consumers, but also the bottom lines of brands.
Wine time
Namaste may not be as big as Amazon, but YPB continues to attract significant brands that want to make a real difference.
In October last year, the company signed a three year with a two year option, Master Supply Agreement to provide a major Australian and European wine company with YPB's integrated brand protection and customer engagement technology suite.
The Australian based company is Australia's and the UK's largest wine company by volume and delivers approximately 38 million cases to over 140 countries annually.
Its brands include three of the top 10 wine brands in the UK, and two of the top ten in Australia, with names such as St Hallett (a great wine in the editor's opinion), Petaluma, House of Arras, Houghton, Grant Burge Wines and Banrock Station (Australia), Waipara Hills and Mud House (New Zealand), Geyser Peak and Echo Falls (United States), Kumala & Flagstone (South Africa), and Viña Anakena (Chile).
That's a lot of wine. But even the wine industry isn't safe.
Recently 14,000 bottles of fake Penfolds went on sale in China and up until this point, it has been almost impossible to track.
YPB has been in the news recently with regard to this problem and could be a force in preventing the reputational damage that could be caused if someone expected a Grange and got something that tasted more like a Rawson's Retreat.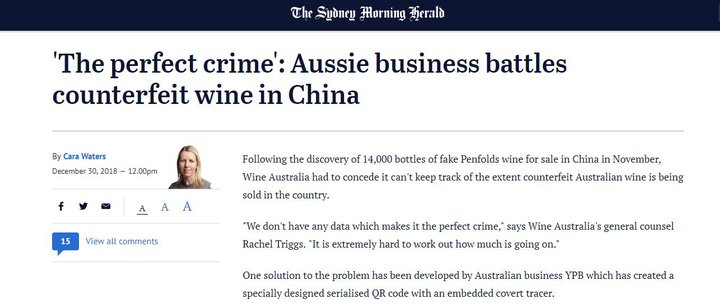 The deal will introduce YPB's solutions into a specific exported brand. If that is successful, the solution will be extended to other premium brands within its portfolio.
Furthermore, Australia reported exports of Australian wine to China grew by 51% for the year to March 2018 to reach $1.04 billion – a first for exports to a single country.
Demand for exported wine in China is increasing, but counterfeit poses all sorts of problems.
YPB's ProtectCode QR Technology and YPB Connect will provide this major Australian wine company with powerful anti–counterfeit and direct consumer engagement capabilities at low cost per unit.
Consumer engagement is also at the forefront here
We have spoken a lot about counterfeit thus far, but consumer engagement is also key to YPB's solution.
Imagine the impact a brand could have in China if it was able to properly communicate how to pair a wine with a particular cuisine, or provide tasting notes or information about the wine's development and creation.
In that process, the consumer's smartphone engagement with the wine will allow the major Australian company, through YPB's solution, to know and engage in direct digital dialogue with the final consumer of its product.
It's a tool that not only protects the consumer, but also brings them closer to the brand in a way that could create ongoing loyalty.
YPB's mission is to make the benefits of its solution so obvious that this major Australian wine company will feel compelled to extend YPB's solutions across its premium portfolio and well into the Pan-Asian consumer markets.
The China factor
China is where it all started for YPB and it remains the company's most important market.
Its relationship with Shenzen Meixin Electronics Co (SME), which supplies global electronics consumer goods manufacturers, and CCN Technologies, is crucial to the company's continued growth.
Shenzen is the China arm of a global plastics supplier and gives YPB access to FMCG (fast moving consumer goods) producers.
Shenzen is supplying YPB solutions to a global auto manufacturer and a global oil major and opens YPB up to an ultra-high volume market that is full of potential.
The three-year deal has already seen Shenzen engage a leading Chinese shampoo brand to adopt YPB's anti-counterfeit technology and as stated above, revenues are already coming in from the deal.
YPB has certainly gained attention in China, receiving both the "Excellent Application Award" and the "Market Development Award" as part of the 13th Security Document Summit's (SDS) 'Blue Shield Awards' program.
The company has won awards every year since 2014 and has variously been awarded Excellent Application, Excellent Invention, Excellent Solution and, in 2018 for the first time, the "Market Development Award".
CEO John Houston said of the award: "It is our honour to be associated with China's SDS and to have our existing technologies and their commercial relevance recognised by the evaluating committee, but showcasing our breakthrough Motif Micro technology for smartphone readability at this year's SDS was an even greater honour. We intend to convert the increased prominence afforded by these awards into commercial success in China and internationally."
Counterfeit in China has been a problem for some time. This article from 2015, spells out the problem.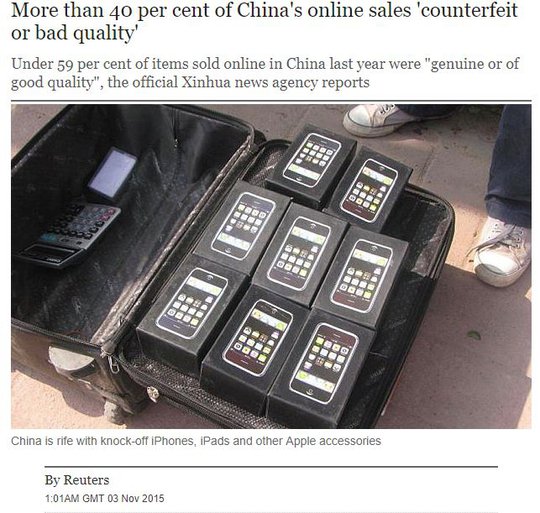 There has been no solution in that time.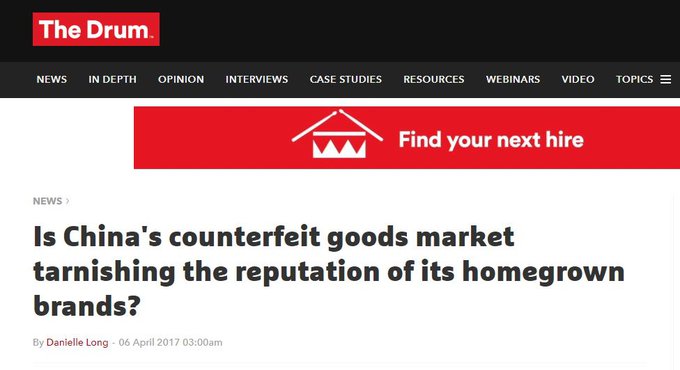 This Forbes article takes us back to the Amazon issue:

The bottom line is: YPB now has a ready-made solution to counterfeit that could stem the flow of counterfeit in the country. And that could mean money in the bank.
Significant growth expected
YPB is quite a tightly held company with the top 25 shareholders holding 63% of the company.
And they expect growth.
Certainly, YPB's shareholders and those interested in the company can see how the company has turned its fortunes around.
In 2018, it achieved group-wide consolidation and overhead reduction without reducing revenues and earning potential.
In fact, earnings potential looks to have increased through deals with major partners offering new distribution channels. YPB has also his record numbers of new client signings with early revenues commencing thanks to new sales hires with global networks and significant industry experience.
Then there's the technological milestone achieved through its smartphone readability with Motif Micro.
Suffice to say 2018 was a big year and 2019 is expected to continue in the same vein.
YPB's objectives this year are to increase revenue through existing and new channels; commercialise Motif Micro through licensing sales, whilst continuing the technical development of the technology; target and complete synergistic M&A transactions to accelerate growth and expand its institutional presence.
That's a lot to look forward to, but given its current momentum there seems to be no reason why YPB can't continue on its current trajectory, make brands, consumers and shareholders happy.
Source: The Next Tech Stock
https://www.nexttechstock.com/asx-anti-counterfeit-tech-company-capturing-growing-legal-cannabis-market/